Podcast: Play in new window | Download (Duration: 16:09 — 24.0MB)
This week's headlines provide stunning contrasts between Democrats and the current Republican party. The differences in the two parties span multiple issues: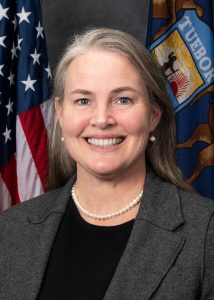 Joining the podcast this week is one of the primary sponsors of the Clean Energy Future bills, Senator Sue Shink. Senator Shink is a community advocate, public servant, and mother who has dedicated her adult life to building healthier, more resilient communities. She is serving her first term in the Michigan Senate where she is fighting for working families.
She grew up in Southeastern Michigan and earned her bachelor's, master's, and law degrees from the University of Michigan in Ann Arbor.
Prior to being elected to the Senate, Senator Shink served as Chair of the Washtenaw County Board of Commissioners and as a Northfield Township Trustee. She has just introduced the Clean Energy Future Plan – a direct response to the climate change crisis.
News Stories We're Following This Week
Climate Change and Environment
Gun Safety
Reproductive Rights
Democrats in the News
Republicans in Disarray